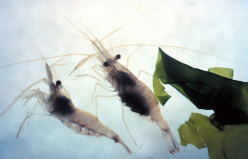 Grass shrimp are the most common shrimp inhabiting Barnegat Bay and are commonly found in salt marshes, eelgrass beds and oyster reefs. Their exoskeleton (shell) is usually clear and almost transparent.
Other names include ghost shrimp, shore shrimp, glass shrimp. Some species can survive in fresh water and are very adaptable to aquarium life.
Several species of grass shrimp that can be found in the bay are so similar in appearance that it requires extremely close examination to accurately identify the species.
Examples are:
- Marsh grass shrimp Palaemonetes vulgaris
- Daggerblade grass shrimp Palaemonetes pugio
- Brackish grass shrimp Palaemonetes intermedius
Grass shrimp have well-developed sense organs. They can easily maneuver and swim in the water, but most frequently are found crawling along the bottom using their three pair of walking legs.
Grass shrimp are omnivores and feed on a range of plants and animals, including detritus, phytoplankton, and other small invertebrates
They grow to an average size of 1 1/2 to 2 inches