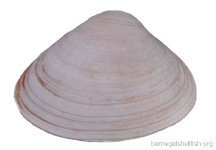 The Atlantic Surf Clam is the largest clam on the Atlantic coast. They are not typically found in Barnegat Bay but are abundant in the ocean waters off of Island Beach and Long Beach Island.
Surf clams range from the beach to a depth of about 200 feet, but their abundance is low in waters deeper than about 130 feet.
Surf clams reach harvestable size in about six years. They can reach up to 8 inches, but clams larger than 7 inches are rare.
Adult clams prefer to live in fine to medium grained sandy sediment. This may be in a nearshore location or in open waters that have suitable sandy bottoms, to the 130 foot depth.
Adult surf clams dig into the sandy bottom and normally stay in one location. The ocean, especially near the beach, is much more turbulent than the bay. Storms, waves and strong currents can move them around but they can establish themselves in a new location if the bottom conditions are right. If they can't dig in, they become vulnerable to predators.