Acorn barnacle species live in intertidal regions and are exposed to the air for a significant part of each day.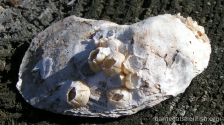 Their body is a shell of six overlapping plates of calcium carbonate with a gap at the top covered by valve that open when the animal is submerged, and close when it is exposed to the air.
<click on image to enlarge>
The base of this igloo-like structure attaches to a firm surface such as a pier, rock, or the hull of a boat. When the tide is low, the barnacle closes its valves to retain moisture and does not emerge from its "igloo" until it is again submerged, at which time six pairs of feathery, chitinous legs called cirri emerge and sweep planktonic material (its source of nourishment) into its cavity.
Barnacles are formed by six overlapping plates of shell with a flat base and an opening at the top. The top opening has two valves that open and close for the barnacle to feed.
Barnacles vary in color from gray to white and in size from less than half an inch to 1 inch in diameter.