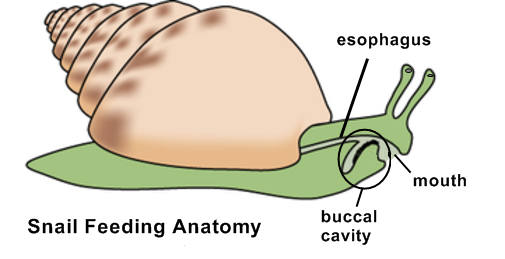 To the right is an overview diagram of the major parts of a snail's feeding anatomy. Although very complex, every effort will be made to explain how it works in (almost) everyday language.
More detailed information on specific terms can be obtained by clicking on hyperlinks (e.g. hyperlink)
Some snails are herbivores and eat algae and vegetation. others are carnivorous and feed upon other animals including snails.
Food is taken into the mouth by organs in the buccal cavity, which includes the radula and then passed along to the esophagus.
Some marine snails scrape algae and other plant matter from surfaces in the bay bottom, but other have adapted to boring (drilling) holes in shellfish to consume the meat of their victims.
Two examples of boring snails are moon snails and oyster drills.