Fiddler crabs also help to maintain larger marsh ecological processes in consuming detritus from cord grass and other plants. They contribute to the aeration of soil around marsh grasses, and thus support their growth, and stimulate the turnover of important nutrients in the soil.
Fiddlers additionally play an important role in the food web by providing food for many other large predators, including blue crabs, colonial waterbirds such as egrets and herons and small mammals such as raccoons.
Fiddlers crabs exhibit many interesting forms of behavior, but none more interesting than the mating ritual. In summer, fiddlers tend to breed about every two weeks.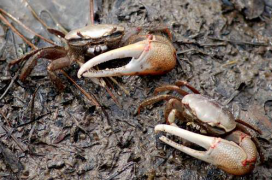 During this period the male fiddler digs, maintains and defends a tidy cylindrical burrow. When looking for a mate, he stands near the edge of the burrow, often alongside a string of other males and their (similarly well-maintained) burrows, while the females, returning from foraging, walk past.
The male waves his large fiddler claw until he attracts the attention of an interested female, who then stares at him for a short period.. The male resumes his claw-waving, and if the female remains receptive, the male runs toward her, then runs back to his burrow, and repeats this motion several times until she either moves on or follows him to the burrow.
The male then partly enters the burrow and drums the edge with his claw. If the female decides to enter the burrow, the male leads her to the terminal "room", returns to the opening to plug up the entrance with sand or mud, and descends to the female again to mate. The female incubates her eggs (or "sponge") for two weeks and returns to the surface to release her eggs in the water, where they will hatch and develop into juvenile crabs.